Welcome To Special Forces.
We were a LPC clan that has been around since May 1st 2016. We have dominated our scene in both f2p and p2p for the past while with having the #1 p2p title since the start. we were the only LPC that competed as an LPC against MPC clans for a while till more clans started reopening up in runescape. We have not stopped punishing the clans around us and have continued to show our quality throughout our existence. With tough changes and stricter requirements we are looking for quality members to join the clan.Special Forces by far is the most active pure clan with daily events including singles/lavas/east dragons to official clanwars and schedules. We have the best community to join with constant conversations in our teamspeak and hope that we best fit your needs as a clanner. We expect nothing but the best with difficult and easy requirements to achieve.Try your best to look into us more then what this site says about us considering we are the most wanted but best clan to be in overall.
We are Currently enrolled in a Med level main clan position and are looking to keep the clan name around in the pure scene for mini-wars/preps. As time passes we will be constantly wilderness pking and already have been actively doing all pvm bosses/raids/castlewars/tournament world on a daily basis. Our objective is to keep ourselves busy with constant action with an active community of pkers. We are an invite-only clan and will no longer be accepting people into the clan as we've already reached our base.
OFFICIAL RANK STRUCTURE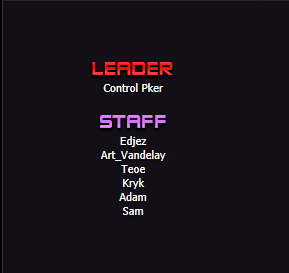 Information to join
Site: www.sf-rs.com
Teamspeak available on site.
I Will not validate your email on the site unless you talk to me on teamspeak 1 on 1.
Recruitment Video of what we do daily.