To create and edit articles in the Wiki, please kindly register and login to your forum account here
Lithuanian Pures
Jump to navigation
Jump to search
Initials
LP
Current Status
Open
Founded Date
2005
Founder(s)
Batista lt, 0r3st4s
Team Cape Number/Cape Color
Team-37
Clan Specialization
Pure
Notable Ranks
Naightm4r3, Jeam Beam, Ggass, Im pur3 0k, Faked R2H, Fake Smile, Scary Roka, L LT T, M D K Lt
Notable Members
Il R4ppy Il, Ranger Ltu21, A G A I N, Mastaa, Trimm3d Arrow, Mjeska, Ve Te Ran, 13 Evil 13, Velyku Dede, Hard To P0t, Str Lol0, I Meg I, Prpperty, Mag1c, I Backpack I, za2iukas, Skate Lt666, Sk1
Clan Motto
Fear The Nation
It is a country-based pure clan that was established in early 2005. It was founded by a group of friends as an opportunity to unite all the Lithuanian pures that had been taking over Edgeville during GMT pking times. Through out all these years LP was opened and closed several times due to updates like RWT Wilderness, the Trade update, and Oldschool Runescape. Usually, LP appeared somewhere in the middle of Pure RAW lists and charts as it was usually hard to outpull and defeat international clans.
However, LP was always motivated and united which lead to winning unbelievable battles - even versus the top clans. LP was known for their unpredictability, strong low level players, a somewhat decent Clan Wars battling ability, and probably being the oldest and the only country-based clan to leave a significant mark on the pure community. The clan re-opened once again in late 2019, uniting all Lithuanian Pures from a variety of international LPC clans and former Brigada and Prestige members and ranks.
LP was founded as a PKing team by a group of friends, just for fun. Eventually, somebody hosted forums, someone started leading the clan and so, the journey began. LP started off by occasionally PKing with a low amount of opts, randomly massing members and going out to kill people without even using programs such as Teamspeak or Ventrillo.
But since more and more people were interested in joining the clan - leaders started organising clan versus clan activities. Wilderness battles with LP proved to be the most nostalgic and entertaining events back then, say the Lithuanian oldschool players.
Soon there were so many different level Lithuanian pures in the clan that they decided to divide it into two different clans. That was how Lithuanian Pures Juniors were born. Hence, they were competing both in LPC and MPC pure brackets at the same time.
During the year of 2007, even more low level clans became prominent. A range of clans such as The Golden Gods, Intense Redemption, previously known as Delta Force, had split into the two clans IR and Agony, which later converged, and The Fallen were now becoming recognized as the future of the pure community. These clans began competing with the previously established clans, such as Against All Odds, after being influenced by top clans such as EOP, FI, and MM, and brought hundreds of new pures into the community. Side project clans such as The Dreaded, a junior clan called The Hatred, and Lithuanian Pures and Lithuanian Pures Juniors were joining these clans as rivals.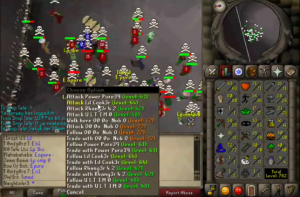 It was because of these low level clans (like LP and LPJ that together pulled nearly 100 people) that the community began to grow. As they were low leveled requirements, new pures could join these clans with only a few days training, creating an anchor for these people to continue with their pures rather than their mains. These low level clans would feed the higher leveled clans as people trained up, and it was a constant conveyor belt of pures being filtered throughout the community, creating a massive growth in all clans.
At that time EOP being placed at the top of the pure clan RAW list that consisted of 25 clans. Lithuanian Pures were fighting their way through the 11th-16th positions. Weekend trips were incredibly active with unbelievable fights occurring with people then discussing their trips on the Pure Community forums. It seemed like nothing could go wrong in the community to halt its growth.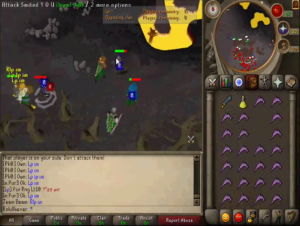 Epidemic were then declared on by first Lithuanian Pures Juniors, which they won, and then Lithuanian Pures, who pulled over 60 people to the war and beat Epidemic convincingly - all in the space of one month. Lithuanian Pures worked hard to grow and the fights and videos posted on Youtube, Pure Community, and forums such as Zybez, which caused even more people to become involved with the clan.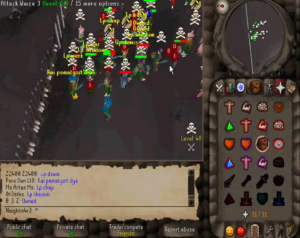 Clans such as Epidemic, IR, The Fallen, The Golden Gods, Animosity, Future Ownage, Pure Anihalation and more were all caught up in their own bracket, with clans such as Lithuanian Pures Juniors, European Elites, Ascendency filling out the lower end of the clan rankings, with the RAW list now boasting 30+ clans.
Things continued to thrive in the community with rivalries, full outs, PKRI's, and drama on the Pure Community website all contributing to the excitement. The pure clanning community was in full bloom until the infamous RWT update in 12/10/2007 after which most clans died out, including LP. The later versions of LP in 2008-2012 simply were not the same.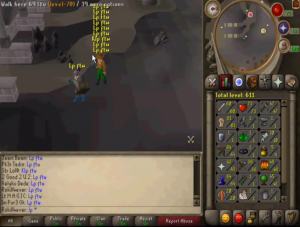 Lithuanian Pures, however, remained open (2008-2011 ~) and participated in events from time to time. They were not as strong as they were by just PKing and fighting clans on an occasional basis. They usually fought other Lithuanian pure clans like Lithuanian Bloody Pures, The Unforgotten, Bloody Pures Warriors and others. Lithuania even had their own RAW list back in the day with over 6-10 clans in it competing against each other. A lot of drama and fights with one another contributed Lithuanian Pure community to the slow decay by, leaving only two Lithuanian pure clans open: Lithuanian Pures and The Unforgotten, making them probably the biggest rivals of LP's history.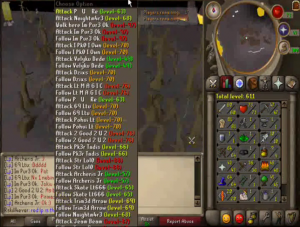 Around 2009, Lithuanian Pures and The Unforgotten found a way and merged together to found a clan called Lietuva, later turning into the Lithuanians. Very complicated openings and re-openings, drama and weird history followed this clan, but they managed to get back into the MPC scene and were still able to defeat clans such as Legacy, Enigma and others. They were also intense rivals with other country-based clans like Latvian Elite Pures, De JaVu (Estonian Pures). Later, these clans merged and all three clans became one clan called Baltic. Baltic was mainly a Wilderness clan that maintained a solid 50-70 people pull and feasted on  most other clans at that time. However, it did not last long as it closed again when people dipped due to being busy with their lives and education. It was hard to get all these people together since it was a country-based clan, but it definitely was a great, long and fun run.
Oldschool Runescape (2015-2016)
[
edit
|
edit source
]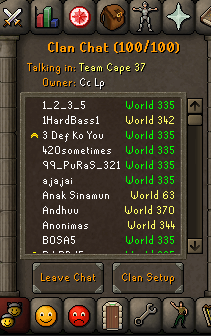 It all started when a few oldschool LP members started playing on the new servers again. They noticed that there were still some Lithuanian pures around; And one day sat down and decided to re-open the most nostalgic clan for them - Lithuanian Pures. LP started off by simply PKing in wilderness worlds, but quickly trained their pures and did some recruiting in order to grow.
Within a few months LP started going out on MPC weekend trips, having preps and other clan events. Hyped members lead LP to some notable wins versus clans such as Against All Odds, Judgement, Remedy, Energy, later Olympus, Sudden Death and others.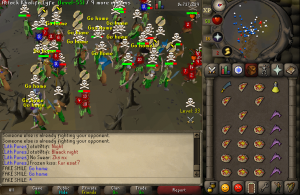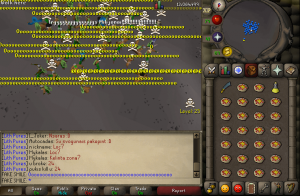 During the winter Lithuanian Pures started pulling over 60 people to their MPC F2P trips, making them the number one pulling clan during that time. Additionally, they were able to achieve a record breaking pull of 69 people and full clan chat for the first time in history (100/100). However, the clan was not doing so great in the clan wars arena at that time. They were still able to get involved in a country-based clan rivalry versus Estonian pure-country-clan StrikeTeam and won all 6 official F2P preps against the them. Additionally, Lithuanian Pures maintained a significant pull for at least 2 months at that time and was able to win some important 1v1 wilderness fights versus clans like Olympus, Sudden Death, Slaughter and others. Furthermore, Lithuanian Pures won an astonishing wilderness battle versus the early stage of Rage, being down a whopping 31 people.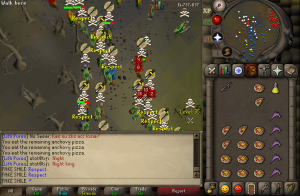 Lithuanian Pures' leader team tried hard to improve their clans' performance and recruitment; however, it was not for them to decide as most of the members refused to max out their accounts like the rival clans did, which made it even harder. As the summer of 2016 kicked in, Lithuanian Pures went almost completely inactive, as the clan consisted mostly of older players that abandoned the game or got sick of the contemporary pure community and were not enjoying pure clanning anymore. This lead to the closure of Lithuanian Pures and so the members went main and opened up a P2P based country main clan called Savage.
Lithuanian Pures vs Untamed Purez F2P Full-Out victory (Apr 2007)
Lithuanian Pures vs Epidemic F2P Full-Out victory (Oct 2007)
Lithuanian Pures vs Calamity F2P CW victory (Dec 2009)
Lithuanian Pures vs Invincible F2P CW rivalry victory (Nov 2010)
Lithuanian Pures vs Legacy F2P CW victory (Aug 2012)
Lithuanian Pures vs Judgement F2P CW victory (May 2015)
Lithuanian Pures vs Remedy (4-0) F2P CW victory (Jul 2015)
Lithuanian Pures vs Rage 26v57 Full-Out victory (Oct 2015)
Lithuanian Pures vs Olympus F2P CW victory (Oct 2015)
Lithuanian Pures pulls 69 people to a Sunday trip; Full clan chat (100/100) (Feb 2016)
Lithuanian Pures vs StrikeTeam 6 official F2P prep victory streak
The clan have always had a keen interest in fun events. That was what kept LP's community going for years. They have been hosting fun events (between one another or versus other clans). For instance: air/fire strike event, gmaul last man standing games, 1 def/att/str/range/mage gear event, no armour PK trip, HP training competition event, 1v1 competition event and other.
Most of LP's events were wilderness related, since that was what the members fancied the most, until the very last days of theirs. Hence, over the time they were open, they hosted a considerable number of full-outs and high opt (e.g. 2v2 clans) fights.
Over the years Lithuanian Pures mostly involved themselves in rivalries versus other country clans; such as Latvian Elite Pures, De Ja Vu (Estonians), StrikeTeam (Estonians), Invincible (Dutch) and other. There was no winner awarded, although LP has always been a tough opponent and never missed a chance to "bite" the rival.
Probably the biggest LP's rivals were The Unforgotten, another Lithuanian pure clan. The rivals did not seem to get along with each other pretty much on anything. Regular full-outs, in game/forum flame wars, IRLs and rank boards being leaked lead this rivalry to getting even stronger. However, the Lithuanian derby ended when both clans eventually sat down and made a decision to merge with each other to seek for some bigger goals; This time - together.
In 2015 LP and AAO were great clan allies. Together they hosted public off training/fun events and friendly CW/Wilderness fights. However, it only lasted until a flame war between LP and AAO's Orphan Gang mini squad. The breaking point to this clan-friendship may have been one of a few AAO losses versus LP in a wilderness battle and still claiming the win afterwards. This lead to a conflict where both clans did not seem to have any event with each other again.
For a somewhat similar reason Lithuanian Pures disliked Rage, since their opening LP held anger against them. It all kicked off when the early stage of Rage, led by Control Pker, lost a 1v1 wilderness battle to LP while being up by 31 player. The 'mini-rivalry' was not that big of a deal, although Lithuanian Pures never missed a chance of finding ways to rush Rage unprepared; It even made to a popular Youtube channel 'SparcMacLlve'. Rage were not happy LP once teamed with a clan called Slaughter, their biggest rivals at that time. However, LP did lose the only F2P prep they had versus Rage. As Faked R2H said that day "you cannot defeat rage only with hype..".