To create and edit articles in the Wiki, please kindly register and login to your forum account here
Redemption
Jump to navigation
Jump to search
Initials
RD
Current Status
Open
Founded Date
1 June 2013
Founder(s)
Sithlord, Evezz
Team Cape Number/Cape Color
Team-26 cape
Clan Specialization
Pure
Notable Ranks
Shawn, orbi, Salso, Sithlord, Evezz, Sybren, Markzz, Mulug, Niblet, Horizon, Parm, Toxic, Ask, Toobaked
Notable Members
Ant, Bruins, Emil, Dipson, strpk, Musk, Fuhlex, Lemons, Tim, 0sm0sis, Spiral Tribe, Camel, Lumb
Clan Motto
First In, Last Out

Redemption (later RD) is a pure clan that was founded by Evezz and Sithlord in early June 2013. RD started out as a highly F2P based MPC clan and throughout it's history evolved into a F2P and P2P powerhouse.
Execution was the name of the clan that preceded RD. With two other founders working with Sithlord and Evezz, Execution was on the rise. On February 25, 2012, Execution opened its doors on Oldschool Runescape. As Execution progressed, the founders views on operating a pure clan diverged. After one founder threatened to remove Evezz from the clan, Evezz accompanied by Sithlord left with approximately half of the members and officials of Execution to create a new pure clan. That new pure clan is today known as Redemption.
Redemption closed their doors as a HPC July 30th, 2016.
Since then Redemption did reopen their doors briefly, but this time as a P2P based low Defense clan lead by Salso and Treehugger28 (ex-FI Official).
The latest version of RD (Current) was reopened by ASK in the XLPC scene bringing back most of the Old School RD core members and ranks.
Redemption was the first clan to break Fatality's F2P Prep War streak and become the number one matched F2P clan.
Redemption declared a Full-Out War against Envy. Despite being their first Full-Out War, RD ran into the fight dropping the opposing clan under a minute.
Redemption declared a Full-Out War against Sovereign (Sep 1, 2013). The fight was quickly be crashed by several clans and continue in singles for multiple hours. Both RD and SV would claim a win eventually sparking a rivalry between the two clans.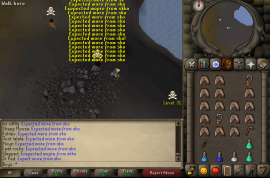 The rivalry between Redemption and Sudden Knock Out (SKO) developed very early in RD's history. The leader of SKO approached Redemption seeking a clan merge before both clans had opened their doors. Redemption refused the offer, causing Sudden Knock Out to develop this hate toward Redemption. A short time later the young rivalry that had been brewing between the clans lead to the clan, The British Elites, closing into Sudden Knock Out. This provided a significant boost with both quantity and quality to be able to compete with Redemption. Every weekend Redemption and Sudden Knock Out would fight for hours to prove that they were the better clan. In early 2015, Sudden Knock Out closed its doors.
The rivalry between Redemption and Sovereign stemmed from a P2P Full-Out War in (Sep 1, 2013). Both clans claimed a win on the Full-Out which lead great animosity between the two clans. RD and SV would continue to battle through 2014-2015. Sovereign notably used many no-honor tactics throughout the rivalry which included: Hacking RD's forums, Doxing ranks and members, Hacking RD members RS accounts for defence, and DDOSing multiple members. Sovereign would later close their doors as a Pure Clan and move to the Main Clan scene.
The rivalry started when the current Leader of RD Toxic departed the clan with plans to open Legendary Pures. RD and LP would have several notable fights over the months peaking on February 14, 2014 (Valentine's Day). During the rivalry RD would cancel all F2P Saturday trips claiming the server lacked action, LP would claim the forced RD out of the server. Legendary Pures closed their doors later in 2014.