Redemption
Jump to navigation
Jump to search
Initials
RD
Current Status
Closed
Founded Date
1 June 2013
Founder(s)
Sithlord, Evezz
Team Cape Number/Cape Color
Team-26 cape
Clan Specialization
Pure
Notable Ranks
Shawn, orbi, Salso, Sithlord, Evezz, Sybren, Markzz, Mulug, Niblet
Notable Members
Horizon, Ant, Bruins, Emil, Dipson, Parm, strpk, Musk, Fuhlex, Lemons, Tim, 0sm0sis, Spiral Tribe, Camel, Lumb
Clan Motto
First In, Last Out
Redemption (later RD) is a pure clan that was founded by Evezz and Sithlord in early June 2013. RD started out as a highly F2P based MPC clan and throughout it's history evolved into a F2P and P2P powerhouse.
History
Execution
Execution was the name of the clan that preceded RD. With two other founders working with Sithlord and Evezz, Execution was on the rise. On February 25, 2012, Execution opened its doors on Oldschool Runescape. As Execution progressed, the founders views on operating a pure clan diverged. After one founder threatened to remove Evezz from the clan, Evezz accompanied by Sithlord left with approximately half of the members and officials of Execution to create a new pure clan. That new pure clan is today known as Redemption.
Redemption
TBA
Redemption closed their doors as a HPC July 30th, 2016. Since then Redemption has reopened their doors, but this time as a P2P based low Defense clan. The latest version of RD (2017) was reopened by Salso and ex-Fatality official, Treehugger28.
Achievements
Redemption was the first clan to break Fatality's F2P Prep War streak and become the number one matched F2P clan.
Notable Events
Redemption declared a Full-Out War against Envy. Despite being their first Full-Out War, RD ran into the fight dropping the opposing clan under a minute.
Notable Rivalries
Sudden Knock Out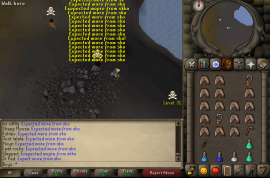 The rivalry between Redemption and Sudden Knock Out (SKO) developed very early in RD's history. The leader of SKO approached Redemption seeking a clan merge before both clans had opened their doors. Redemption refused the offer, causing Sudden Knock Out to develop this hate toward Redemption. A short time later the young rivalry that had been brewing between the clans lead to the clan, The British Elites, closing into Sudden Knock Out. This provided a significant boost with both quantity and quality to be able to compete with Redemption. Every weekend Redemption and Sudden Knock Out would fight for hours to prove that they were the better clan. In early 2015, Sudden Knock Out closed its doors.
Legendary Pures
Zerg Unit
Fatality
Controversies